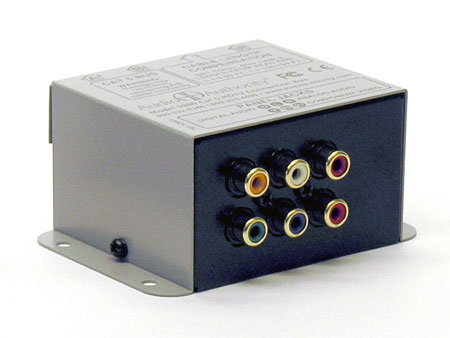 Audio Authority 9880T Enclosed Transmitter - Component Video / Stereo & Digital Audio Transmitter for Dual Cat-5 Distribution
Looking at the RCA connections, on the top row, from left to right, is coaxial digital audio, analog audio left, analog audio right, while Y, Pb, and Pr component video connections are on the bottom row.
The Audio Authority 9880T Enclosed Transmitter can drive a single 9878, 9879 or 9880 receiver.
The 1180T is also available as a part of a complete distribution system as AVP-11.
This UniDrive transmitter uses an active design, so it can transmit high-definition component video, as well as both analog and digital audio, up to 1000 feet, using inexpensive CAT5-type cables - a range that passive balun systems simply cannot achieve!
If you want the very best
Cat5-type twisted-pair cables, we have them available here.
Combined with the appropriate receiver, the 9880T UniDrive transmitter delivers pristine HDTV video at all HDTV resolutions up to 1080p, as well as full bandwidth analog stereo audio and multi-channel digital audio. The 9880T even includes a return pathway for IR control.
Like most Audio Authority products, the model 9880T comes with a one year limited warranty from the manufacturer.
Audio Authority's Description
1:1 Dual Cat 5 Transmitter
Model 9880T
Key Features:
Single-output Dual Cat 5 Transmitter
Component video, coaxial digital and stereo analog audio
Infrared remote jack for IR pathway
Wallplate/receiver powered through Cat 5 cable
Made in the USA
The 9880T incorporates the key signal paths necessary for premium audio and video entertainment, plus an IR pathway for easy remote control of AV components. All this over just two inexpensive, easy to install Cat 5 cables. The Model 9880T Cat 5 Transmitter distributes HDTV signals up to 1,000 feet from the source to any of three receiver options.
The Infrared Pathway
The 3.5mm IR jacks provide convenient access for a third party IR remote distribution network over the passive, three-wire pathway on the Cat 5 cable. IR receiver and emitter equipment is not included.
Top Quality Over Long Cable Runs
Our Active Gain Equalization technology allows adjustable compensation for any cable length up to 1,000 feet from the source. The adjustment is made at the remote end so that the installer can fine tune the results while viewing the results on the HDTV. Like our commercial video distribution products, the UniDrive provides reliable ground isolation, preventing hum bars and other artifacts associated with ground loops.
[Note from Cable Solutions: While it is certainly appropriate and convenient to hire an installation specialist, (as suggested in the next paragraph) this system is not particularly difficult to install. The driver unit requires a number of connections, but certainly not as many as a modern A/V receiver. As for the receiver units, if you can install a network jack or phone jack, then you can just as easily install a wallplate receiver..and the enclosed receivers are even easier to install. We suggest that you start by reading the UniDrive Focus Sheet and the User Manual, then decide if you can handle the job. Naturally, if you have any questions, please do not hesitate to contact us.]
To the Home Owner
While the UniDrive is ideal for new construction or an existing home, it does require special knowledge and tools to install. We suggest you contact a local custom home installation specialist. Many installation specialists are members of the Custom Electronic Design & Installation Association and can be located through the CEDIA website.
Product Dimensions: (H-W-D, inches)
9880T Transmitter: 1.75 x 3.75 x 3
Downloads