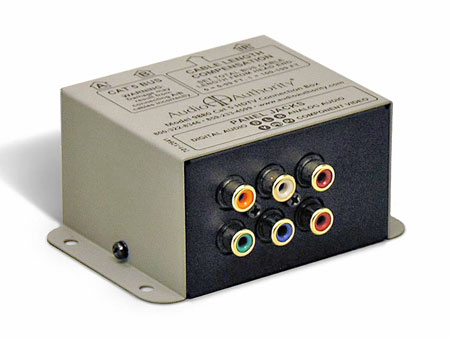 Audio Authority 9880 Enclosed Receiver - Component Video / Stereo & Digital Audio Receiver for Dual Cat-5 Distribution Systems
Looking at the RCA connections, on the top row, from left to right, is coaxial digital audio, analog audio left, analog audio right, while Y, Pb, and Pr component video connections are on the bottom row.
Use the Audio Authority 9880 Enclosed Receiver with UniDrive, DuoDrive, SixDrive, AVAtrix AVM-562, AVX-561-NR,
AVX-661-NR and HLX Distribution Systems as well as stand-alone 9871 and 9880T drivers.
The compact design lends itself to mounting on the wall behind a TV, or even on the back of the TV itself.
The 9880 receiver provides Y/Pb/Pr component video, digital audio and analog stereo audio jacks An IR jack provides a convenient pathway for a third-party IR remote distribution network over the Cat-5 pathway. IR receiver and emitter equipment not included.
You may also want to consider the Decora®-style wallplate version. If you need a shallow depth wallplate receiver or the classic style of stainless steel, you may also want to consider this version.
Like most Audio Authority products, the 9880 comes with a one year limited warranty from the manufacturer.
Audio Authority's Description
Dual Cat 5 Surface-Mount Receiver
Model 9880
Key Features:
Dual Cat 5 Receiver
Enclosed box, surface mount style
Component video, analog audio, digital audio
3.5mm front panel IR connection
Compatible with all Audio Authority dual Cat 5 systems
Made in the USA
When connected to a compatible Audio Authority driver, the 9880 provides pristine component video, digital coaxial audio, analog L/R audio, plus an IR jack. The cable length compensation adjustment allows the installer to fine tune image and sound quality over long Cat 5 runs.
The Model 9880 is perfect for wall-mounted displays. Cable connections are parallel to the wall, allowing near-flush mounting for flat panel displays. The 9880 can be mounted on any flat surface, even to the back of a TV when no wall surface is available.
Enclosed design does not require a wall box for mounting
Cable length compensation adjustment allows the installer to fine tune image and sound quality over long Cat 5 runs
Rear facing IR jack
Compatible with: Models [HLX,] AVX-661, AVX-561, AVP-11, 1170, 1171, 1176, 9871, 9870, 9880T
The 9880 is one of three Cat 5 receivers compatible with Audio Authority residential Cat 5 products. Use any combination of receivers in the same system for the perfect mix of logistics and aesthetics. View a Cat 5 receiver comparison table.
** Caution ** Always correctly pair and terminate Cat 5 cables, and test pairing and continuity before connecting power to the driver and Wallplate. Incorrect cable termination, or plugging a cable into the wrong port can result in Wallplate damage.
Product Dimensions: (H-W-D, inches)
Downloads: