TechLogix Networx Products
HDMI over IP Matrix Distribution
Extenders
Fiber Optic Extenders
Twisted-Pair Extenders
Room Kits
MSRP: $1538.99
Your Price: $1399.00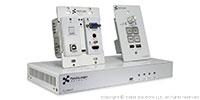 This powerful, intuitive, and affordable room kit
Quick and easy to install, this all-in-one audio/video collaboration system features wallplate-style inputs and controls. Transmitter wallplates has inputs for HDMI as all as VGA and stereo audio. Connection to the receiver is accomplished via HDBaseT, using a single twisted-pair cable.

TechSpecs | Manual
MSRP: $658.99
Your Price: $599.99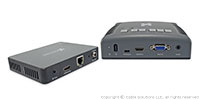 Control system, twisted pair extender, and presentation switcher in a single affordable package

TechSpecs | Manual
New Product Line!
If you've seen these products at a trade show, then you already know how great they are. We have access to the complete product line. Many models are already shipping, so we would be delighted to provide product details, and price quotes. Please do not hesitate to contact us for more information!