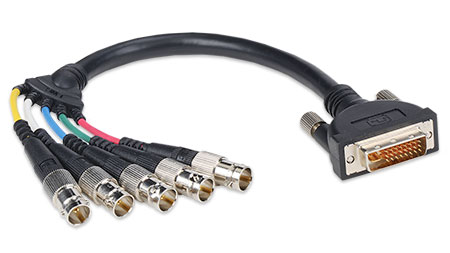 Liberty AV Liberty AV Premium Molded DVI Analog to 5 BNC female cable
1-foot version show here, but these cables are now available in 6-foot lengths only.
Liberty's DVI-I to 5-BNC-F breakout cable provides an elegant way to tap the analog outputs of a video card or other equipment equipped with a DVI-I output connector. This break-out cable has a DVI-I-male connector on one end and 5 BNC-female connectors on the other end.
Sturdy molded connectors, handy thumbscrews and gold-plated contact ensure easy installation and long life.
Manufacturer's Description
Liberty Premium Molded DVI Analog to 5 BNC female cable
Features and Benefits
Male DVI Plug to 5 BNC Jack (Female) Connectivity
26 AWG Stranded mini-High Resolution Coaxial cables
75 Ohm BNC Jacks
Durable heavy duty molding and strain relief
NEC CL2, CSA Type AWM I/II A/B FT4, RoHS Compliant
Applications
DVI Analog Only conversion to 5-wire RGBHV
RGBHV Video breakout to larger low loss coaxial cables
Installations where RGBHV has to go through conduit