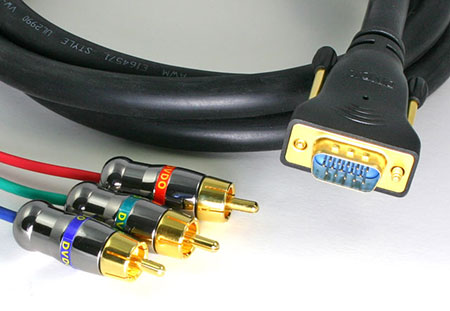 DVDO HD15 to 3-RCA Component Video Breakout Cable - In this photo, the HD-15 connector can be seen clearly. Notice the gold-plated pins and shell, as well as the handy thumb screws.
DVDO 11-2001-01 breakout cables are great for use with iScan processors, or anywhere that a good quality VGA-male / 3-RCA-male 3-wire component video connection is needed.
VGA-male is also known as HD-15 male and component video may also be referred to as Y/Pb/Pr.
Pricing for these manufactured cables is lower than our custom-built breakout cables, so if you can use this exact length and configuration, you can save some money.
DVDO's Description
DVDO's custom-designed Precision
HD15 to 3-RCA Component Video Cable delivers a pure, high-resolution video signal for sharp, natural-looking images.
DVDO's custom-designed Precision HD15 to 3-RCA Component Video Cable delivers a pure, high-resolution video signal for sharp, natural-looking images
Features
75 ohm coaxial cable construction with strain-relief overmolds
High quality gold-plated cast RCA connectors with color-coded barrel grips
Integrated ferrite on HD15 cable end for enhanced system electromagnetic compatibility
This cable can be used two ways with your iScan:
To connect the analog video output of your iScan to the Component (YPbPr) video inputs on most televisions, projectors, and other display devices
To connect the High Definition video output (typically 1080i or 720p) of a Direct Broadcast Satellite TV Receiver (DSS, Dish, etc.), or other HD video source, to the "Pass-Thru" input of the iScan Ultra or iScan HD