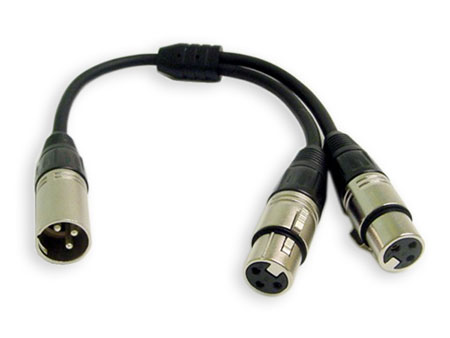 Cable Solutions YHG-1XLRM-2XLRF High-Grade "Y" Cable
1-XLR-male / 2-XLR-female, OFHC, metal connector bodies
Cable Solutions YHG-1XLRM-2XLRF High-Grade XLR "Y" Cables feature fully-shielded 8mm (0.32") OFHC Oxygen-Free High-Conductivity copper cable, terminated with metal-bodied connectors.
The connectors have nickel-plated bodies and contact surfaces to ensure reliable low-noise connections. Cable length between the connectors is 165mm (6.5").
These manufactured "Y" cables have one XLR-male connector on one end and two XLR-female connectors on the other ends, making them perfect for for connecting two sources to a single XLR input.
Warranty
Like most Cable Solutions products, our HG-1XLRF-2XLRM High-Grade "Y" Cables come with a one year limited warranty against defects in materials and workmanship.