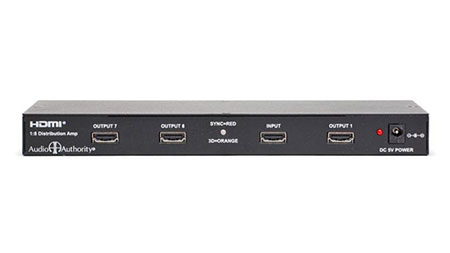 Audio Authority 1398A 1:8 HDMI Distribution Amp/Splitter with 3D Support
The Audio Authority 1398B 1:8 HDMI Distribution Amp/Splitter with 3D Support brings a level of performance and compatibility that lesser distribution amplifiers simply cannot match.
Unlike some of its lesser competitors, the 1398B has been ATC certified as HDMI compliant, and meets all requirements for HDCP certification. Sporting a high-performance chipset from Silicon Image, virtually the inventor of HDMI, it is no wonder that the 1398B performs so well.
Supports 3D content and CEC Auto-Reset feature. HDMI v1.3 compliant. Compatible with 120 and 240 Hz HDTVs.
Like most Audio Authority products, the 1398B comes with a one year limited warranty from the manufacturer.
Audio Authority's Description
1:8 HDMI Distribution Amp/Splitter
Model 1398B
1 HDMI input, 8 outputs
HDMI ATC certified and HDCP compliant
Supports 1080p video and lossless audio formats
Supports 3D content
CEC Auto-Reset feature for retail showroom environments
Compatible with today's 120 Hz and 240 Hz high definition televisions
Mounting brackets (included) wire management plate sold separately
Overview
Model 1398B distributes HDMI audio and video signals from one source to eight HDMI displays. Use the unique CEC Auto-Reset feature if you want to be sure that all connected video displays remain on input#1. This feature is especially useful in the retail demo environment, where customers can change inputs or turn TVs off. The 1398B sends a CEC reset command every 10 minutes to keep all TVs showing the intended content. The 1398B passes 3D signals, and indicates 3D content by an LED on each 1398B. Bitstream audio is also supported - including LPCM 7.1 channel uncompressed audio, Dolby Digital TrueHD (7.1), and DTS HD: Master Audio (7.1). Legacy codecs such as Dolby Digital and DTS core are also supported.
Supports 1080p/60 and 1080p/24
36 bit Deep Color (sum of all channels)
Dolby TrueHD and Dolby Digital Plus (bitstream throughput)
DTS HD and DTS HD: Master Audio (bitstream throughput)
LPCM Uncompressed Audio (7.1 channels)
Lip-sync compensation
Mounting brackets included, optional wire management plate sold separately
Don't Forget Cables!
Our high quality, reasonably priced, Z-Series HDMI cables are available in lengths from 6 to 50 feet.
HDMI, the HDMI logo and High-Definition Multimedia Interface are trademarks or registered trademarks of HDMI Licensing LLC.
Features
Key Features
CEC Auto-Reset feature can be used to keep all displays set to input 1
Outputs may be cascaded to create an extensive distribution network up to seven layers deep
HDCP keysets allow each output to work independently when connected to an HDMI display; supports automatic discovery of display EDID
Supports 3D content; LED indicates 2D HDMI (red) or 3D (orange).
Supports up to 36 bit color depth /12 bits per color (TMDS channel)
Supports resolutions up to 1080p@24/60Hz including 480i, 480p, 720p, 1080i, 1080p and multiple PC resolutions
Supports Dolby Digital Plus, Dolby® Digital TrueHD and DTS-HD: Master Audio
HDMI version 1.3 compliant, HDCP 1.1 compliant, DVI 1.0 compliant
Maximum HDMI cable length, source to input: 15m with 1080p/8bits or 1080p/12bits resolution (using 24AWG cables)
Maximum HDMI cable length, output to display: 15m with 1080p/8bits or 10m with 1080p/12bits resolution (using 24AWG cables) Equipment used for 3D cable length tests: PlayStation 3, 40" Samsung LED UA40B700 12 bits LCD TV
Video/Audio Inputs/Outputs:
What makes the 1398B Unique?
When activated, CEC Auto-Reset triggers a command every 10 minutes via the CEC (Consumer Electronics Control) circuit. Use this feature to keep all displays in the distribution network showing content on HDMI input#1. This feature is very useful in retail environments or anywhere the public has access to TV controls, turning them off or changing inputs.
EDID* SWITCH: In TV mode the 1398B reads the EDID on output 1 and records it, then allows the source to send matching HDMI signals to the other seven HDMI outputs (supports 3D). In STD mode the 1398B uses its built-in EDID, which is set at 1080p@60/12bits for video and LPCM 2Ch for audio (does not support 3D). Use this setting if there is a problem getting the source to send a signal to all of the connected displays.
Optional wire management plate keeps HDMI cables in place, eliminating failures due to poor connection.
Specifications
Video Parameters
Video Formats: 480i/p, 576i/p, 720p, 1080i/p, up to 1920x1200
Color Processing: 36 bit Deep Color (12 bits per TMDS color channel)
Internal signal equalization circuit
Audio Parameters
Audio Processing: Lossless and uncompressed audio formats, including Dolby TrueHD and DTS-HD: Master Audio, LPCM 7.1 channel
Bandwidth: 20Hz to 20KHz
Multi-channel Digital: Yes
Frequency Response: 10-50KHz
Miscellaneous
Dimensions (HxWxD, inches):2 x 17 1/8 x 6 1/4
Shipping Weight: 4.9 lbs.
Product Weight: 4.4 lbs.
Data Rate: 2.25Gbps (single link)
TMDS Clock Speed: 225MHz
Maximum HDMI cable length, source to input: 15m with 1080p/8bits or 1080p/12bits resolution
Maximum HDMI cable length, output to display: 15m with 1080p/8bits or 10m with 1080p/12bits resolution
Agency Approvals: FCC, CE, RoHS
DC Input Connector: locking type, 5VDC
In the Box
Power supply 5V / 6A locking, USA
Mounting brackets (wire management plate sold separately)
User manual - 12 pages, printed
Downloads
Documents