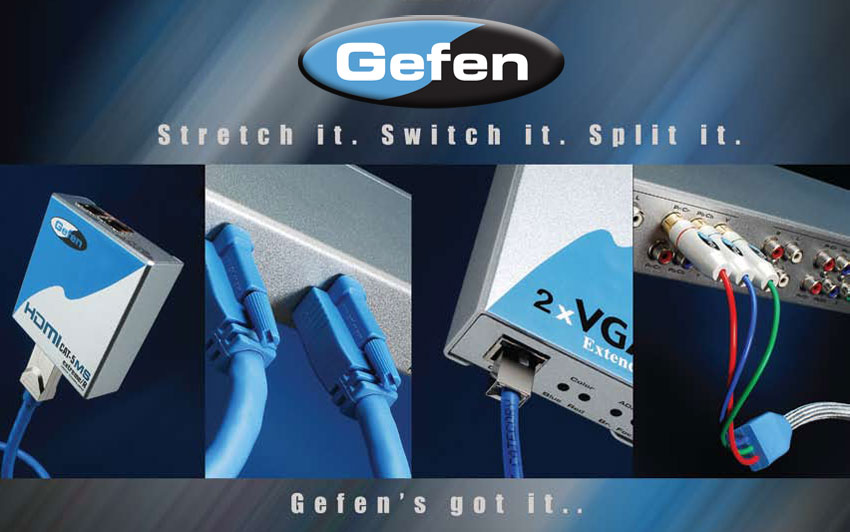 A leader in the high definition digital domain since 1998, Gefen Inc. delivers advanced technologies with products using multi-platform formats for extension, switching, distribution, conversion and wireless capabilities. Gefen products are utilized all over the world in professional broadcast AV/ IT and consumer electronics/home theater environments. Add-on peripherals maximize functionality and performance by enabling electronic systems to go beyond their original specified capabilities.
Gefen solutions support an array of connectivity interfaces including HDMI™, DVI, Dual Link DVI, HD-SDI, SDI, M1, MDR, SCART, Component, S-Video, BNC, Mini Stereo, Optical, VGA, RCA, USB, FireWire and RS-232 peripherals.
A selection of high quality short and long distance copper and fiber optic cables are also available.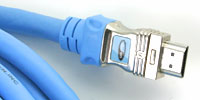 HDMI, DVI, and FireWire, cables in a wide range of lengths...everything you need to get your system hooked up...more...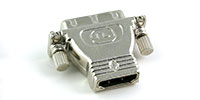 Solve a multitude of compatibility problems with high-quality Gefen adapters!
Convert between HDMI, DVI, M1, VGA, HD-15, component video, and RGBHV connections and more...
Switchers
HDMI Switchers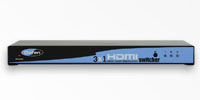 HDMI v1.2 switcher with three HDMI inputs and one HDMI output. Discrete IR remote control included.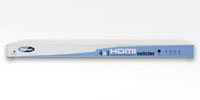 Gefen EXT-HDMI-441 4x1 HDMI Switcher
Splitters / Distribution Amplifiers
HDMI Splitters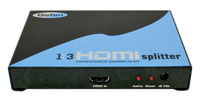 Gefen EXT-HDMI-143 1x3 HDMI Splitter
High-performance HDCP-compliant HDMI signal distribution for the newest HDMI-enabled equipment...these HDMI v1.2 devices can send both digital video and digital audio to as many as three display devices.
DVI Splitters
VGA Splitters
Component Video and Audio Splitters
VGA Splitters
Converters
Component Video and Digital Audio to HDMI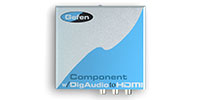 Converts Y/Pb/Pr component video and optical digital audio to a digital format, then combines the resulting video and audio onto a standard HDMI data stream, making it simple to use analog component video source components in an otherwise digital system.